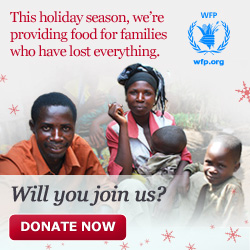 After a week of gluttony, it may seem strange that I'm writing about world hunger. But, it seems I'm never more aware of all that we have than during this season. So it makes sense then that on this last day of 2012, a day of reflection, that we talk about giving.
World Food Programme is an organization that provides food assistance in emergency situations all over the world. As someone who works with food every day and someone who has eaten her fair share this holiday week, I will be making my end of year donations to help those who need even a fraction of what I am so lucky to have.
I hope you'll consider doing the same.
P.S. Looking for more parenting guidance and tips for self-care? Check out From Chaos to Calm a guided training to help you feel better in this tough season.